Brief Introduction
Impression Sanjie Liu show is the hottest program in Yangshuo. Every day, we pickup people from hotels in Guilin to watch the show. then take them back to their hotels after the show.

Impression Sanjie Liu show is a major production with a cast of 500 singers, dancers, bamboo boats and cormorants bids. However, the stand out performer is definitely the background scenery. The lighting of the karst peaks is truly amazing and was our highlight.
Show Time
Duration: 1 Hour, from 20:00 to 21:00
(In summer time, when the booking is booming, there will be two shows per night, usually at the weekend, the 1st starts at 19:00, the 2nd starts at 21:00)
Show days for Impression Liu Sanjie in Feb 2013
The Impression Liu Sanjie will be temperally closed from Jan 10, 2013 to Feb 10, 2013.  
The show will be open again on Feb 11, 2013.
The Chinese New Year's Day is on Feb 10, 2013.
From Jan 10, 2013 to Feb 10, 2013, the show of Impression Liu Sanjie will be closed. All cast memebers take one month vacations for family union. The cast memebers have been working every night all the year round, they need a break.  They will come home for family union and come back to theatre to start their performance on the 2nd day of Chinese New Year.
As usual, the Chinese New Year holidays will be a big event in Yangshuo, it will be quite difficult to book a ticket.  Recommend you reserve a seat as earlier as possible.
Feb 2013
| | | | | | | |
| --- | --- | --- | --- | --- | --- | --- |
| Sun | Mon | Tue | Wed | Thu | Fri | Sat |
| | | | | | 1 | 2 |
| 3 | 4 | 5 | 6 | 7 | 8 | 9 |
| 10 | 11 | 12 | 13 | 14 | 15 | 16 |
| 17 | 18 | 19 | 20 | 21 | 22 | 23 |
| 24 | 25 | 26 | 27 | 28 | | |
               On
Light Yellow Days
, tickets are avialble to book.
Tickets
Ticket rate for C class (ordinary ticket): RMB 198/ USD 30 per person. Need to reserve in advance.
Place
Location. At the confluence of the Li and Yu Long Rivers, Just south of Yangshuo
How to get there: Take Golf style vehicle from the top of West Street. Cost 2 Yuan. Takes 5 minutes. Other option is to walk back as traffic is very bad as everyone leaves at the same time. Officially cameras are not allowed but this was not enforced
Photos of Impression Liu Sanjie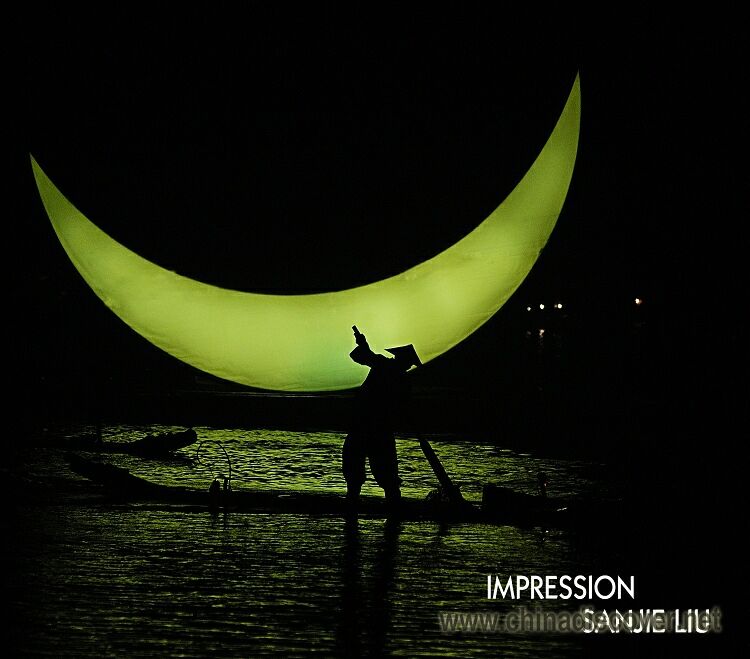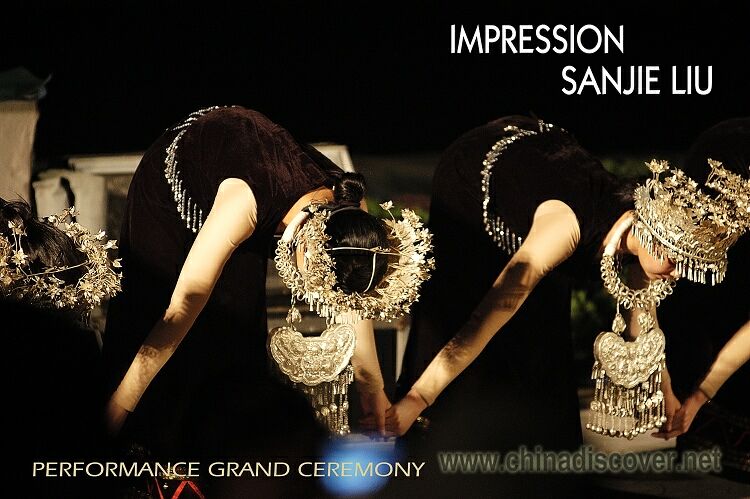 Stories of Impression Liu Sanjie
The performance is based on a Chinese musical movie made in 1961.
The story is about a lady called Liu SanJie who lived in the city of Liuzhou (2 hours from Guilin) where she worked in the fields. Liu Sanjie was well known in Liuzhou for her great singing voice. She would always sing while she worked in the fields. Most of her songs were about the repression felt by her and the farmers from the local landlords who over taxed them. She had to leave Liuzhou for her own safety and came to Yangshuo on a bamboo raft and settled here.
Yangshuo's farmers also had problems with their landlord and Liu Sanjie took up singing against them. The local landlord had her kidnapped, but she escaped after the local farmers staged an uprising against the landlord. The locals agreed with the landlord that they did not have to pay taxes if they could sing better than the landlord, something which they always did.
Then under the Big Banyan tree, Liu Sanjie tossed her love ball to her loved one, which he accepted and they lived happily ever after.
How to book a ticket
Different ways to book tickets available:
Plan A: find a booking booth on the streets in Yangshuo by yourself
Plan B: book show ticket + hotel/theatre transfer package, from USD 58
Plan C: book show ticket + Li River Cruise Package (recommend), from USD 104